Unlocking the mysteries of a critical building resource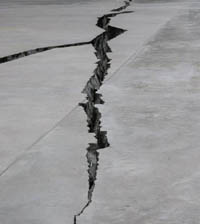 Concrete has been the main stay of building construction for generations. Today, traditional reinforced concrete is an integral and important component of building structures. It usually takes the form of footings in ground, slabs on ground, columns and suspended slabs.
Concrete however, is not the perfect substance. As such it can suffer from defects. These defects can have a huge impact on the appearance, capital expenditure, maintenance costs, safety and effective life of the total structure.
What then are the typical forms of concrete defects? Some of the more common defects can be categorised as follows:- 
Structural design inadequacies

– distortion, bending cracks, deflection, shear cracks, impact damage temperature change cracks, abrasion, torsion cracks and erosion.

Environmental causes

– weathering/staining, biological growth, bacteriological attack, efflorescence (lime leaching), freeze-thaw damage and fire damage

Aggregate properties

– aggregate swelling/shrinkage/softening, alkali-silica reaction and sulphide staining/spalling.

Chemical attack

– sulphates, chlorides, acids and salt weathering.

Reinforcement corrosion

– cracking, spalling and de-lamination 

Concrete Cancer

– cracking of the concrete caused by the corrosion of steel reinforcement in concrete structures