Napier & Blakeley partakes in Abseil for Youth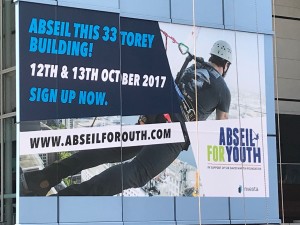 NSW Building Consulting Manager, Simon Gould was pleased to be a part of Investa's recent Abseil for Youth event in the Sydney CBD.
The event which involves a 135 metre abseil decent off the 33 storey 1 Market Street building was held in support of the Sir David Martin Foundation which raises funds to help young people in crisis. Simon was part of the Core Engineering team which has so far raised over $2,200 for the charity. Fortunately Simon was able to make it back down to the ground safely, although not without a few jittery moments when going over the edge!
Simon has also confirmed that the western façade of 1 Market Street is currently in good condition with no significant defects identified (sometimes it's hard to switch off from your job!).
If you would like to find out more about the event or make a donation to the Sir David Martin Foundation, please follow the link below:
https://donate.grassrootz.com/sirdavidmartinf/abseil-for-youth-2017/core-project-consulting