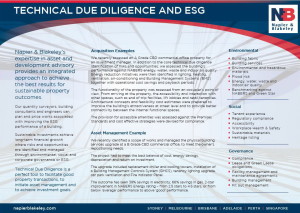 Napier & Blakeley's expertise in asset and development advisory provides an integrated approach to achieve the best results for sustainable property outcomes.
Our quantity surveyors, building consultants and engineers can plan and price works associated with improving the ESG performance of a building.
Sustainable investments achieve long-term financial growth where risks and opportunities are identified and managed through environmental, social and corporate governance or ESG.
Technical Due Diligence is a perfect tool to facilitate good property transactions, to initiate asset management and   to achieve investment goals.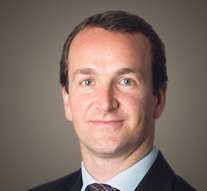 NAPIER & Blakeley have launched a national and global recruitment campaign, searching for suitable candidates to join the company's building consultancy team to assist with their ever increasing workload.
Napier & Blakeley national director Rob Howells said the company's building consultancy and technical due diligence business is increasing its global coverage.
"We are in our 30th year in business and we are seeing increasing demand for our trusted and independent consultancy services,"
He added that the success of local players coupled with a strong appetite from international investors for real estate has seen demand grow for independent professional advice.
As a result, Howells said Napier & Blakeley's business has continued to grow year on year.
Napier & Blakeley is the market leader in Australia having provided technical due diligence for a large percentage of all international property investors coming into Australia. Continue reading →
People at Napier & Blakeley enjoy being empowered to run their own projects, with direct client interaction and capacity to plan their days and weeks ahead.
Our people are supported by directors and colleagues who are leaders in their fields, who are happy to pass on their wisdom, to ensure all members of the group can continue to learn and develop.
Each Napier & Blakeley office provides a comfortable work environment located in a vibrant part of each CBD. 
Quarterly lunches and other social/sporting activities are enjoyed by all and help us get to know each other.
We always welcome interest from new people from graduate level to Senior Professionals and welcome expressions of interest from suitably qualified people. 
•  Chartered Building Surveyors 
•  Building Consultants 
•  Quantity Surveyors 
•  Project Managers 
•  Environmental Consultants 
•  Property Tax Quantity Surveyors
•  Employment Opportunities
If you think Napier & Blakeley may provide you with the place you would like to be, please forward us a copy of your CV or enquiry to recruitment@napierblakeley.com