For 32 years and counting Napier & Blakeley has provided expertise to the hotel property sector throughout Australia, New Zealand, South East Asia, South Pacific and beyond.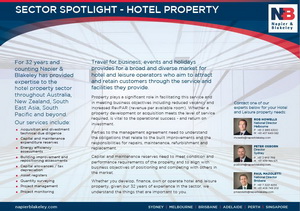 Our services include :
Acquisition & divestment technical  due diligence
Capital and maintenance expenditure reserves
Building improvement and repositioning assessments
Capital allowances / tax depreciation
Asset registers
Quantity surveying
Project management
Project monitoring

As we enter our 33rd year in business our long association with Western Australian property and development continues, dating back to the foundations of N&B in 1985.
Following the formal opening of a Perth office by Graham Rigby two years ago, we are now pleased to welcome Andy Brunn to the WA team.  Andy, who brings over 14 years of top tier international quantity surveying experience, moved to Perth from the United Arab Emirates 5 years ago.
During the last 5 years he has developed an excellent understanding of the local Perth market based upon his experience in a broad cross section of projects in the region.
Starting his career in the UK in 2003, Andy's journey to date has seen him working on some of the most prestigious projects in the world whilst delivering exceptional results for his clients.
His experience crosses multiple sectors including corporate real estate, fund monitoring, commercial, retail, aviation, health, government/civil, education and hospitality, where he has been focused on delivering high quality pre and post contract services to developers, end users, financial institutions and contractors/sub-contractors on projects ranging from $500,000 to multiple $billions.
His specialties include cost planning/estimating, value management, financial reporting, payment claims, project management, claims and dispute resolution and procurement.
Andy's results driven approach along with relationship development ensures that the best possible results are delivered to both client and project outcomes.
We continue to provide a variety of services including :
Asset acquisition & disposal due diligence
Property depreciation allowances
Capital expenditure planning & management
Fire insurance reinstatement costs
Project and development monitoring
Asset efficiency modelling & management
Construction cost planning & management
Retrofitting planning & management
End of lease condition and make good assessments Continue reading
Q: I have just bought an investment property, which I plan to renovate in about six months' time. It was leased when I bought it, and the lease runs out in October, so I plan to renovate it when my tenant moves out.
I'm not sure whether I should get a depreciation schedule done now so I can make a claim on my tax return this year, or wait until I've completed the renovation(and will therefore have a much better depreciation schedule)?
It seems like I will miss out on tax deductions this year, but I don't want to spend the money on getting two depreciation reports. Which would be the best course of action?
- Thanks, Wayne
A: There are a few different things to consider here, starting with your initial acquisition.
As the property is income-producing, then you are able to claim allowances, as you point out. To get the benefits available to you, you should prepare an initial schedule that details all
the deductible items as at the time of settlement.
Deductions would be for depreciable plant under Division 40 and for structural items under Division 43, which will only apply if the building is young enough. You can then claim these allowances from settlement up until the point when either the property is no longer earning income or you decide to commence the renovation.
Having this initial schedule will provide you with the base document for your deductions going forward and also the base document to alter after you have completed the renovations. Continue reading →
When considering depreciation, which will gain the greatest benefit from capital allowances: new or old properties? That is the ongoing question – one that Paul Mazoletti from Napier & Blakeley aims to answer once and for all.  Paul Mazoletti is a director at Napier & Blakeley, the first provider of depreciation schedules in the Australian market (since 1985).

Depreciation (capital allowances) can be a valuable tax deduction for any property investor and a great way to reduce your taxable income. However, the question of old versus new does come up a lot in discussions with investors.  So, who is right and who is wrong?   With effect from 9 May 2017, if you are focusing on capital allowances deductions, new property is the better way to go.  We could also suggest that neither is the 'best' way, as there are advantages to both.  However, if legislation is passed soon, the proposed changes will certainly lean you towards buying new.
The benefit of newer properties
The main benefit of buying a new investment property is that this will provide a higher total base tax deduction entitlement, when considering the combined value of fixtures and fittings the building structure's value.  Deductions through the depreciation of fixtures and fittings under Division 40 may now only be available on any new investment property asset acquisition made after 9 May 2017.  Deductions through the depreciation of the building structure under Division 43 are also available on both new and older assets; we'll explore this further later in the article.  The ATO introduced capital allowances in 1985 for the residential sector, coincidentally at the same time as Napier & Blakeley opened its first office in Australia and launched its capital allowances business. Continue reading →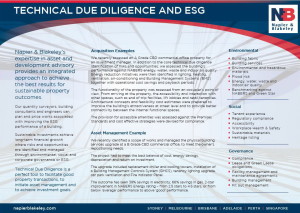 Napier & Blakeley's expertise in asset and development advisory provides an integrated approach to achieve the best results for sustainable property outcomes.
Our quantity surveyors, building consultants and engineers can plan and price works associated with improving the ESG performance of a building.
Sustainable investments achieve long-term financial growth where risks and opportunities are identified and managed through environmental, social and corporate governance or ESG.
Technical Due Diligence is a perfect tool to facilitate good property transactions, to initiate asset management and   to achieve investment goals.
Do you own or have you bought an investment property in the past financial year?
Or…  have you recently refurbished, altered or extended your investment property in the past financial year?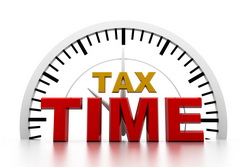 Or…  do you own an investment property but have never claimed depreciation in the past?
Or… own any property including commercial, retail, industrial, residential, pubs, clubs, sporting – we are experts in them all.
If your answer is yes to any of these questions then you may very well be paying too much tax on your income if you don't claim your depreciation deductions.
Property tax allowances (commonly known as depreciation) provide an opportunity for owners of income producing property to reduce their taxable income, thus reducing the tax payable.   Continue reading →
Q: I own a three-bedroom townhouse that I bought three years ago for $434,000.
I never bothered getting a depreciation schedule as the place was 17 years old, and I was always under the impression that depreciation was only for new homes. However, I recently read in this magazine that older homes can attract good depreciation benefi ts as well.
What kind of depreciation schedule would I be able to get on this type of property, and can I go back and make claims on my previous tax returns? It's a two-storey townhouse, with three bedrooms, and there is airconditioning in the main areas and living room, with a pool in the complex.
Thanks, Drew.
A: Property tax depreciation allowances or 'capital allowances' are calculated based upon two different sections of income tax legislation and consider two different aspects of your asset. The two main areas to property tax deductions are: Plant & Equipment; and the Capital Works deductions.
Plant & Equipment (also known as Division 40) are items that are usually fixtures and fi ttings, which can be easily removed from the property, as opposed to items that are permanently fixed to the structure of the building.
Plant and equipment items include, but are not limited to: hot water systems, carpets, blinds, ovens, cooktops, range hoods, freestanding furniture, air-conditioning systems, BBQs, heaters and flooring (floating floor boards).
"If you have not claimed depreciation on your property in the past, it is possible to amend previous tax returns – to a point" Continue reading
Yesterday marked the first of 3 of the 2017 PCA NSW Capital Markets breakfast seminars.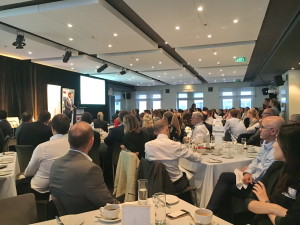 Napier & Blakeley have been the main sponsor of these breakfast seminars since 2008 and the 2017 series got off to a flying start with around 150 in attendance in the ballroom at The Establishment.
The series was introduced by Alexandra Gray from Mirvac and Peter Osborn from Napier & Blakeley and the topic of the day was "Australian Capital Market Flows – Both Sides of the Ledger" and the panel speakers were:
Neil Brookes, Knight Frank
Tim Church, UBS
Alexandra Crossing, CBRE Global Investment
Jason Todd, Macquarie
And the moderator was Ticky Fullerton from Sky Business News.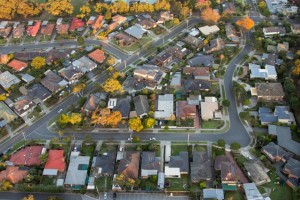 In the Federal Budget on 9th May, depreciation allowances forming part of an investors income tax deductions for second hand residential investment properties were effectively killed off.
This will apply to the purchase of any second hand properties where the contract to buy is entered into after 7.30pm on 9th May 2017.
Contracts entered into prior to this date will be grandfathered and deductions will still be able to be claimed.
What this means is not entirely clear yet.
Will this mean, for example, that items previously considered to be plant and equipment and therefore deductible under Division 40 of the ITAA could now simply form part of the building and therefore become deductible as part of the building and included under Division 43 Capital Works deductions? Continue reading →