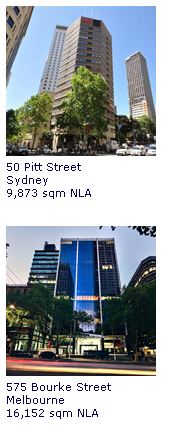 In June 2017, TrustCapital Australia (TCA) engaged Napier & Blakeley to undertake Vendor's Technical and Environmental Due Diligence relating to their commercial office portfolio.
Within two weeks of instruction we had reviewed all the available documentation, inspected all the properties and provided written feedback on our findings.
We were able to achieve this using our national team of building consultants, services engineers and cost consultants, in conjunction with external environmental consultants from our approved consultants panel.
This early stage reporting provided TCA, and their Facilities Managers, the opportunity to act upon minor items of deferred maintenance and short term future repairs and maintenance needs, to help prepare the properties for sale.
While the repairs were underway Napier & Blakeley completed the final  written reports.
Our reports covered the technical and environmental aspects of the property and risk assessment was facilitated by capital and maintenance forecasts over a ten year period.
Items in our forecasts are categorised by the detailed scope of the instruction along with a probability rating of the likelihood of such events occurring. Continue reading →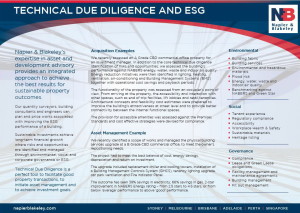 Napier & Blakeley's expertise in asset and development advisory provides an integrated approach to achieve the best results for sustainable property outcomes.
Our quantity surveyors, building consultants and engineers can plan and price works associated with improving the ESG performance of a building.
Sustainable investments achieve long-term financial growth where risks and opportunities are identified and managed through environmental, social and corporate governance or ESG.
Technical Due Diligence is a perfect tool to facilitate good property transactions, to initiate asset management and   to achieve investment goals.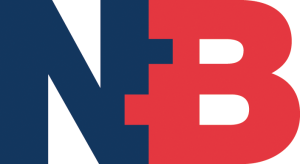 We are already off to a busy start to 2017 with expectations of substantial Real Estate Investment activity in our region over the year ahead.
2016 saw many milestones for us and our independent and trusted advisory services, throughout which we worked on:
more than 600 technical due diligence reports for vendors, purchasers and financiers of property or development acquisitions. Our large national team allowing us to deliver more than 12 due diligence projects every week.
a significantly increased number of debt rollover re-financing due diligence projects for financiers of existing assets. Continue reading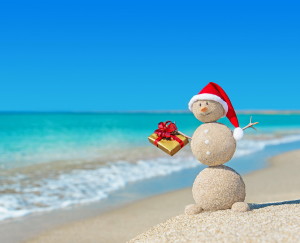 2016 was quite an incredible year with significant global change and with it, new opportunities opening up for us here in Australia.
It was also another busy year for Napier & Blakeley, with our independent trusted advisory services again being in great demand from both local and offshore clients investing in Australia and SE Asia.
In 2016, we managed client projects across all states and territories of Australia and also in Singapore, Hong Kong, Indonesia, Sri Lanka, Fiji, The Maldives, Guam and New Zealand.
We would like to say a big thank you to all of our clients and send all of you and your families our Season's Greetings.  We look forward to working with you again and to a successful and prosperous 2017 for all.
Our offices will close at 5pm on Friday 23rd December and reopen on Monday 9th January.
Should you have any urgent business during that time, please contact our Managing Director, Alastair Walker on 0419 503 289 or at awalker@napierblakeley.com. Continue reading →
Consistency, Clarity and Efficiency
Napier & Blakeley Due Diligence Reports are accepted by institutional grade investors – including REITS, super funds, sovereign funds, family offices, financiers and private equity globally.
We're the market leader in the provision of Technical Due Diligence, demonstrated by the fact we're involved in about 75% of all significant commercial property transactions to occur in Australia.
The key here is that a Napier & Blakeley Report is acceptable to all parties to a transaction.
Independence, Value, Risk Management and Upside
A Napier & Blakeley Due Diligence Report provides value to investors and their financiers as we are truly independent from the transaction, management or valuation of an asset.
We focus only on those financial matters, short to long term, material to the investment decision. Risk Management is facilitated by the allocation of probability of events occurring against their possible cost implications. This provides for a risk weighted expenditure forecast. Continue reading →
Our Transaction & Asset Advisory professionals cover the core disciplines involved in the physical analysis of cost, risk and return of property acquisition, ownership and disposal.
We align our clients' thoughts with our own and provide user friendly, accurate, meaningful and timely advice that is oriented to the commercial imperatives that actually matter.


Those in the business of selling commercial property can achieve the best price within a short period of time through a staged approach to technical due diligence. 
The old adage of 'buyer beware' typically means that purchasers conduct their own technical due diligence which can uncover late in the day surprises relating to condition, deferred maintenance, non compliances with statutory obligations or capital expenditure needs. These may include deal breakers or points of negotiation on price and contractual conditions.
These late in the day uncertainties can be mitigated by vendors who take a staged approach to technical due diligence and where the end result, the technical due diligence report, can be assigned to the purchaser.  Continue reading →