Technical Due Diligence and ESG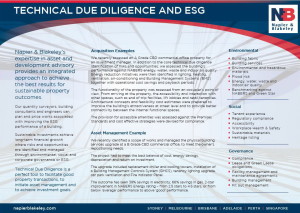 Napier & Blakeley's expertise in asset and development advisory provides an integrated approach to achieve the best results for sustainable property outcomes.
Our quantity surveyors, building consultants and engineers can plan and price works associated with improving the ESG performance of a building.
Sustainable investments achieve long-term financial growth where risks and opportunities are identified and managed through environmental, social and corporate governance or ESG.
Technical Due Diligence is a perfect tool to facilitate good property transactions, to initiate asset management and   to achieve investment goals.