There are a few candidates vying to become the world's tallest building, however there is one that is rising above the competition.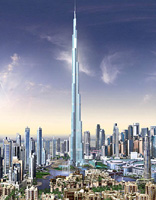 Burj Dubai ("Dubai Tower") is a super-tall skyscraper currently under construction in Dubai, United Arab Emirates. According to its developers, It is currently the tallest free standing structure in the world, surpassing the CN Tower in Toronto, Ontario, Canada which previously held the record for 32 years. When it is completed in early 2009, it is predicted to be the tallest man-made structure in the world, as well as the tallest building by any measure.
While the final height of the building is a closely guarded secret, sources claim that it will measure approximately 818m, however this information is disputed.
Scheduled for occupancy in September 2009, the building is part of a 2 km² (0.8 sq mi) development called 'Downtown Burj Dubai' .
Burj Dubai's last two milestones will be to surpass the 628.8 m (2,063 ft) height of the KVLY-TV Mast in North Dakota, United States to become the world's tallest structure, and to pass the Warsaw radio mast in G?bin, Poland (646.4 m (2,121 ft) until it collapsed in 1991) to become the world's tallest structure of any type ever built.
However, it is not simply the tall buildings that are making headlines.
The City Centre Las Vegas
The CityCenter will be a mixed-use 76-acre complex (16,797,000 square feet (1,560,500 m²)) on the Las Vegas Strip in Las Vegas, Nevada, currently under construction by MGM Mirage.
With a total cost expected to exceed $7.8 billion, CityCenter is the largest privately financed development in the United States. The original cost estimate was $4 billion, but it was pushed up by rising construction costs and design changes.
The project had an initial employee estimate of 12,000 people.