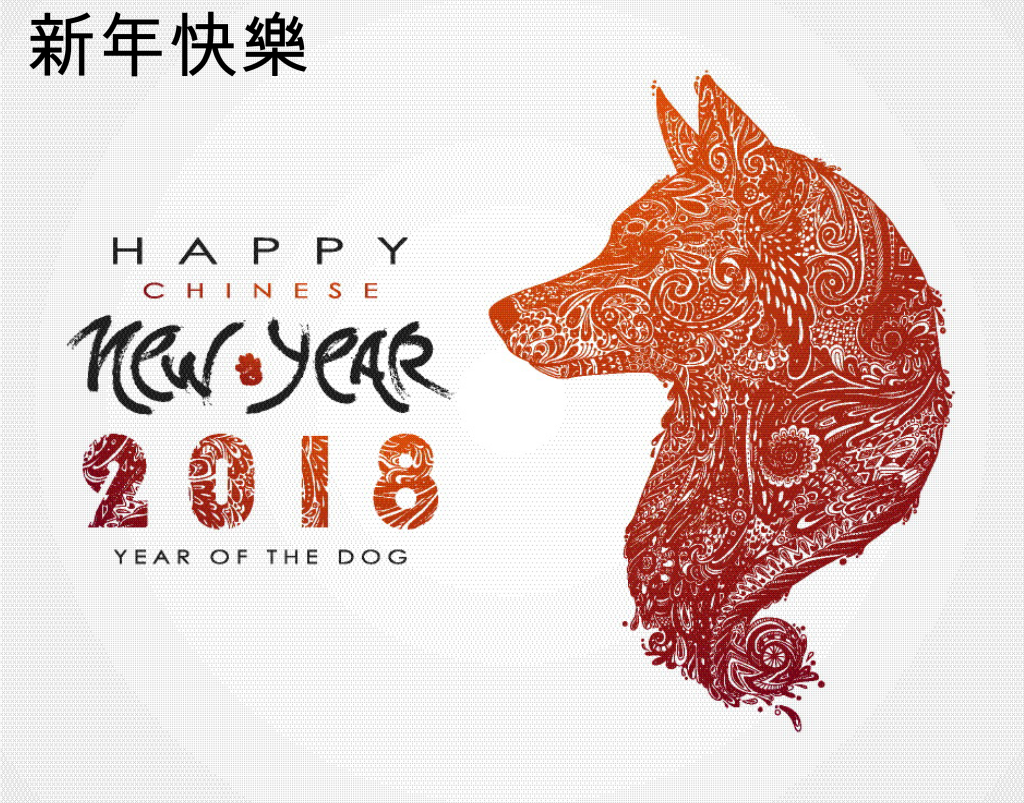 A happy 2018 and a happy Chinese New Year to all our clients and friends of Napier & Blakeley
We are already off to a busy start with expectations of substantial Real Estate Investment activity in our region over the year ahead. Continue reading →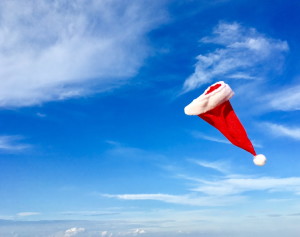 2017 was another significant year in property, the highlight of which was pricing within the commercial office sector which produced some record yields in Australia.
It was also another busy year for Napier & Blakeley, with our independent trusted advisory services again being in great demand from both local and offshore clients investing in Australia and SE Asia across the property, development and sustainability industries.
In 2017, we again managed client projects across all states and territories of Australia and also an increasing number of projects across the Asia Pacific region.
We would like to say a big thank you to all of our clients and send all of you and your families our Season's Greetings.  We look forward to working with you again and to a successful and prosperous 2018 for all.
Our offices will close at 5pm on Friday 22nd December and reopen on Monday 8th January.
Should you have any urgent business during that time, please contact Peter Frith on +61 418 733 987 or on pfrith@napierblakeley.com. Continue reading →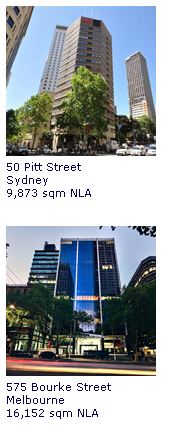 In June 2017, TrustCapital Australia (TCA) engaged Napier & Blakeley to undertake Vendor's Technical and Environmental Due Diligence relating to their commercial office portfolio.
Within two weeks of instruction we had reviewed all the available documentation, inspected all the properties and provided written feedback on our findings.
We were able to achieve this using our national team of building consultants, services engineers and cost consultants, in conjunction with external environmental consultants from our approved consultants panel.
This early stage reporting provided TCA, and their Facilities Managers, the opportunity to act upon minor items of deferred maintenance and short term future repairs and maintenance needs, to help prepare the properties for sale.
While the repairs were underway Napier & Blakeley completed the final  written reports.
Our reports covered the technical and environmental aspects of the property and risk assessment was facilitated by capital and maintenance forecasts over a ten year period.
Items in our forecasts are categorised by the detailed scope of the instruction along with a probability rating of the likelihood of such events occurring. Continue reading →

Costs, Risks and Returns are being impacted by uncertainty around the future acceptability of Aluminium Composite Cladding Panels (ACP).
Since the Lacrosse Apartment building fire in 2014 and the tragic Grenfell Tower fire of 2017, there are still more questions relating to the use of flammable ACP than answers.
Industry, governing bodies, financiers, building owners and occupiers, are yet to really understand their options.
Will the import and use of flammable ACP in Australia be banned? – one of the suggestions made by the Senate's interim enquiry report.
Will the National Construction Code and Building Regulations be revised to require increased fire safety around the use of ACP? – as suggested by the current draft amendment out for public comment.
Will the 'grey area' of whether the ACP is an attachment or part of an external wall be confirmed?
Will Government required audits lead to large scale removal of flammable ACP and replacement with compliant materials?
Will insurers carve out flammable ACP from insurance policies?  Will premiums increase?
Is the reputation of ACP tarnished so much so that developers and architects turn their back on the material – as recently reported by Uniting Communities with their U City development in Adelaide? Continue reading

As we enter our 33rd year in business our long association with Western Australian property and development continues, dating back to the foundations of N&B in 1985.
Following the formal opening of a Perth office by Graham Rigby two years ago, we are now pleased to welcome Andy Brunn to the WA team.  Andy, who brings over 14 years of top tier international quantity surveying experience, moved to Perth from the United Arab Emirates 5 years ago.
During the last 5 years he has developed an excellent understanding of the local Perth market based upon his experience in a broad cross section of projects in the region.
Starting his career in the UK in 2003, Andy's journey to date has seen him working on some of the most prestigious projects in the world whilst delivering exceptional results for his clients.
His experience crosses multiple sectors including corporate real estate, fund monitoring, commercial, retail, aviation, health, government/civil, education and hospitality, where he has been focused on delivering high quality pre and post contract services to developers, end users, financial institutions and contractors/sub-contractors on projects ranging from $500,000 to multiple $billions.
His specialties include cost planning/estimating, value management, financial reporting, payment claims, project management, claims and dispute resolution and procurement.
Andy's results driven approach along with relationship development ensures that the best possible results are delivered to both client and project outcomes.
We continue to provide a variety of services including :
Asset acquisition & disposal due diligence
Property depreciation allowances
Capital expenditure planning & management
Fire insurance reinstatement costs
Project and development monitoring
Asset efficiency modelling & management
Construction cost planning & management
Retrofitting planning & management
End of lease condition and make good assessments Continue reading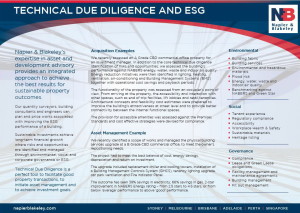 Napier & Blakeley's expertise in asset and development advisory provides an integrated approach to achieve the best results for sustainable property outcomes.
Our quantity surveyors, building consultants and engineers can plan and price works associated with improving the ESG performance of a building.
Sustainable investments achieve long-term financial growth where risks and opportunities are identified and managed through environmental, social and corporate governance or ESG.
Technical Due Diligence is a perfect tool to facilitate good property transactions, to initiate asset management and   to achieve investment goals.
Do you own or have you bought an investment property in the past financial year?
Or…  have you recently refurbished, altered or extended your investment property in the past financial year?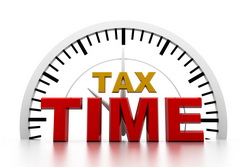 Or…  do you own an investment property but have never claimed depreciation in the past?
Or… own any property including commercial, retail, industrial, residential, pubs, clubs, sporting – we are experts in them all.
If your answer is yes to any of these questions then you may very well be paying too much tax on your income if you don't claim your depreciation deductions.
Property tax allowances (commonly known as depreciation) provide an opportunity for owners of income producing property to reduce their taxable income, thus reducing the tax payable.   Continue reading →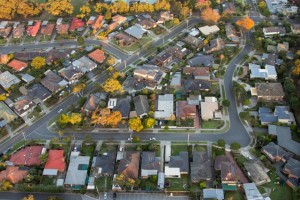 In the Federal Budget on 9th May, depreciation allowances forming part of an investors income tax deductions for second hand residential investment properties were effectively killed off.
This will apply to the purchase of any second hand properties where the contract to buy is entered into after 7.30pm on 9th May 2017.
Contracts entered into prior to this date will be grandfathered and deductions will still be able to be claimed.
What this means is not entirely clear yet.
Will this mean, for example, that items previously considered to be plant and equipment and therefore deductible under Division 40 of the ITAA could now simply form part of the building and therefore become deductible as part of the building and included under Division 43 Capital Works deductions? Continue reading →