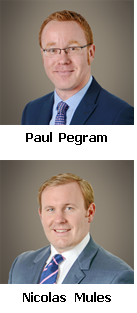 NAPIER & Blakeley has strengthened its transaction advisory team with two appointments.
Paul Pegram has been appointed senior building consultant and Nicolas Mules as building consultant.
Both bring international experience and have relocated from New Zealand, they will be based in Napier & Blakeley's Sydney office.
Pegram qualified as an RICS Chartered Building Surveyor in 2010 and is experienced in technical due diligence, defects analysis, capital expenditure planning and project management.
Mules has a background in regulatory compliance and building consulting. He is currently studying at Masters level and is also working towards full RICS membership.
"Paul and Nic are both originally from the UK and have international expertise providing asset advisory services to property and development clients," national director Rob Howells said.
"They both strengthen our capability to serve clients locally as well as clients with trans-tasman interests and property portfolios," Howells said.
The two additions follow the appointment of Andy Brunn to Napier & Blakeley's Western Australian team last month.
Brunn brings over 14 years of top tier international quantity surveying experience. He moved to Perth from the United Arab Emirates five years ago.
Australia Property Journal
1 August 2017

Headaches and protracted negotiations at lease expiry could be avoided by well drafted Make Good clauses and thought out strategies prior to lease commencement.
Building owners and tenants can be poles apart in their understanding and interpretation of repair, maintenance and other make good related clauses. This in turn can lead to significant unforeseen costs, disputes and delayed income. 
Attention to the lease definitions and obligations together with some good asset management strategies can help to avoid such situations. 
Your lease and make good check list in this regard could include some thought around the following:

Premises
What are the physical elements and spaces under the obligation of each party?
Commencement Date
Does the obligation for repair, maintenance and make good extend to any previous terms of occupation perhaps under an earlier lease or option? 
Condition as at Commencement
If the tenant is expected to return the property back to a condition 'as at commencement' – can anyone recall what this looked and felt like?

Is it well defined and recorded in a schedule of condition with plans and photographs?  Continue reading
Our Transaction & Asset Advisory professionals cover the core disciplines involved in the physical analysis of cost, risk and return of property acquisition, ownership and disposal.
We align our clients' thoughts with our own and provide user friendly, accurate, meaningful and timely advice that is oriented to the commercial imperatives that actually matter.