Costs, Risks and Returns are being impacted by uncertainty around the future acceptability of Aluminium Composite Cladding Panels (ACP).
Since the Lacrosse Apartment building fire in 2014 and the tragic Grenfell Tower fire of 2017, there are still more questions relating to the use of flammable ACP than answers.
Industry, governing bodies, financiers, building owners and occupiers, are yet to really understand their options.
Will the import and use of flammable ACP in Australia be banned? – one of the suggestions made by the Senate's interim enquiry report.
Will the National Construction Code and Building Regulations be revised to require increased fire safety around the use of ACP? – as suggested by the current draft amendment out for public comment.
Will the 'grey area' of whether the ACP is an attachment or part of an external wall be confirmed?
Will Government required audits lead to large scale removal of flammable ACP and replacement with compliant materials?
Will insurers carve out flammable ACP from insurance policies?  Will premiums increase?
Is the reputation of ACP tarnished so much so that developers and architects turn their back on the material – as recently reported by Uniting Communities with their U City development in Adelaide? Continue reading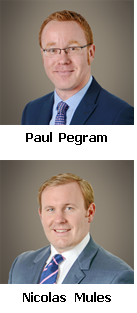 NAPIER & Blakeley has strengthened its transaction advisory team with two appointments.
Paul Pegram has been appointed senior building consultant and Nicolas Mules as building consultant.
Both bring international experience and have relocated from New Zealand, they will be based in Napier & Blakeley's Sydney office.
Pegram qualified as an RICS Chartered Building Surveyor in 2010 and is experienced in technical due diligence, defects analysis, capital expenditure planning and project management.
Mules has a background in regulatory compliance and building consulting. He is currently studying at Masters level and is also working towards full RICS membership.
"Paul and Nic are both originally from the UK and have international expertise providing asset advisory services to property and development clients," national director Rob Howells said.
"They both strengthen our capability to serve clients locally as well as clients with trans-tasman interests and property portfolios," Howells said.
The two additions follow the appointment of Andy Brunn to Napier & Blakeley's Western Australian team last month.
Brunn brings over 14 years of top tier international quantity surveying experience. He moved to Perth from the United Arab Emirates five years ago.
Australia Property Journal
1 August 2017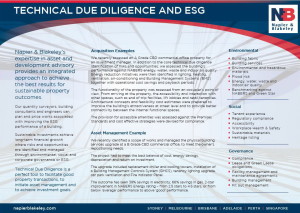 Napier & Blakeley's expertise in asset and development advisory provides an integrated approach to achieve the best results for sustainable property outcomes.
Our quantity surveyors, building consultants and engineers can plan and price works associated with improving the ESG performance of a building.
Sustainable investments achieve long-term financial growth where risks and opportunities are identified and managed through environmental, social and corporate governance or ESG.
Technical Due Diligence is a perfect tool to facilitate good property transactions, to initiate asset management and   to achieve investment goals.
We provide project advisory services to institutional and non-institutional owners, corporate occupiers and financiers, of all investment property types, as well as healthcare, aged care and residential.
With a market leading brand, now in our 31st year of business, we have a unique reputation of gaining a deep understanding of our client's business and industry so that project needs and outcomes can be strategically aligned to business plan objectives and to demonstrate return on investment.
Our project advisory services are provided by industry leading experts and from a multidisciplinary perspective extending beyond project advisors, development managers, building consultants, services engineers and energy efficiency specialists through to quantity surveyors who provide cost certainty and tax depreciation specialists who ensure projects benefit from a cash flow perspective. Continue reading →
Consistency, Clarity and Efficiency
Napier & Blakeley Due Diligence Reports are accepted by institutional grade investors – including REITS, super funds, sovereign funds, family offices, financiers and private equity globally.
We're the market leader in the provision of Technical Due Diligence, demonstrated by the fact we're involved in about 75% of all significant commercial property transactions to occur in Australia.
The key here is that a Napier & Blakeley Report is acceptable to all parties to a transaction.
Independence, Value, Risk Management and Upside
A Napier & Blakeley Due Diligence Report provides value to investors and their financiers as we are truly independent from the transaction, management or valuation of an asset.
We focus only on those financial matters, short to long term, material to the investment decision. Risk Management is facilitated by the allocation of probability of events occurring against their possible cost implications. This provides for a risk weighted expenditure forecast. Continue reading →
Fortunately, only a few Make Good disputes end up in the Courts. However, the potential for protracted arguments is on the rise.
Some of the drivers include:
Changing conditions in the resources sector seeing engineering firms and the like, downsize;
Large corporates relocating to new developments;
An increasing demand for smaller spaces generally, through improved efficiencies and flexible work environments.
When it comes to handing back tenancy space the Lessee will need to comply with obligations to 'yield up'. This is typically where the arguments start. Differences of opinion in who owns what; what work needs to be done to return the property to a condition 'as at commencement'; whether current condition falls under the exception of 'fair wear and tear'; and whether the extent of partial repair requires full replacement – to mention a few.
Disputes that run beyond the lease term are settled by 'damages' – a financial settlement following a claim. These not only include the costs associated with the physical works (typically $200 – $300/sqm for offices) but also legal costs, loss of rent and outgoings.
The good news is that such arguments (and additional costs) can be avoided – through good planning. Continue reading →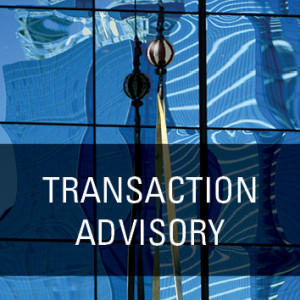 NAPIER & Blakeley has bolstered its Transaction Advisory team with the appointment of Kate Rickards.
Rickards has been appointed senior consultant within the N&B's Transaction Advisory team and will be based in the Melbourne office.
Rickards' previous roles have been at AECOM, Philip Chun and Abigroup.
"We're absolutely delighted to have Kate on board," National director Rob Howells said.
"With a background in mechanical services design, regulatory compliance and tendering and estimating, Kate makes for an excellent due diligence consultant in our expanding business." Howells concluded.
Property Review Australia
14 May 2015